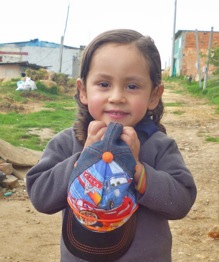 Yordy Santiago Jimenez Garcia
Age: 3
Date of birth: May 8th, 2010
FAMILY DESCRIPTION
I live with my parents and my sister.  My father's name is Cesar Augusto Jimenez Castro, and he is 24 years old.  My mother is Luz Adriana Garcia Cano, and she is 30 years old. I have a big sister named YirleyTatiana, and she is 13 years old. My favorite food is chicken. I don't go to church and I attend school daily from 8:00am to 4:00 pm.  I suffer from skin allergies and have been hospitalized with pneumonia from the cold weather.
MY HOME AND COMMUNITY
We live in our own house. The floor is the ground, the walls are made of wood, and the roof is made of metal sheets. It has one bedroom in which all four of us sleep.  There is only one bathroom. It is located in the "Altos de la Florida" neighborhood in Soacha.  We have electricity, but there is no sewer system and water arrives every two weeks.  The weather is cold and the streets are unpaved.
Code: BOG_003_017