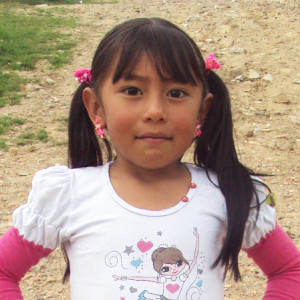 Wendy Eliana Ducuara Chaguala
Age: 6
Date of birth:  March 3, 2007
 FAMILY DESCRIPTION
I live with my parents and brother.  My father is Edgar MillanDucuara and he is 26 years old.  My mother is Luz Adriana Chaguala, and she is 25 years old.  I have one brother named Santiago, who is 4 years old.  My favorite food is meat, although regular meals are scarce.  I do not go to church, but I attend school daily from 7:00 a.m. until 12:30 p.m.  I am in first grade..  My health is okay, although I have trouble gaining weight.
 MY HOME AND COMMUNITY
We live in our own house. It has clay tile floors, cement walls, and metal sheets for the ceiling.  It has two rooms and one bathroom. It is located in the "Altos de la Florida" neighborhood in Soacha.  We have electricity, but there is no sewer system and water arrives every two weeks.  We have to collect the water in containers to be used for cooking, drinking, washing, and bathing.  The weather is cold and the streets are unpaved.
Code: BOG_003_035