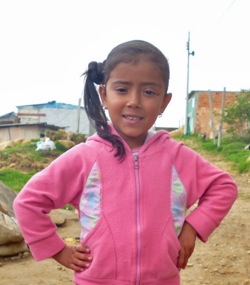 Maria Camila Rodriguez Marin
Age: 6
Date of birth: September 23, 2007
 FAMILY DESCRIPTION
I live with my parents and brother. My father's name is Juan Carlos Rodriguez Gaviria and he is 32 years old. My mother is Mariluz Marin and she is 28.  My brother is 13 years old and his name is Cristian David.  My favorite food is beef.  I don't go to church. I attend preschool from 8:00 a.m. to 3:00 p.m. and my favorite subject is Spanish.  I suffer from eczema.
MY HOME AND COMMUNITY
We live in a rented house. The floor and walls are made of concrete, and the roof is made of metal sheets. It has two bedrooms and one bathroom.  It is located in the "Altos de la Florida" neighborhood in Soacha.  We have electricity, but there is no sewer system and water arrives every two weeks.  The weather is cold and the streets are unpaved.
Code: BOG_003_010