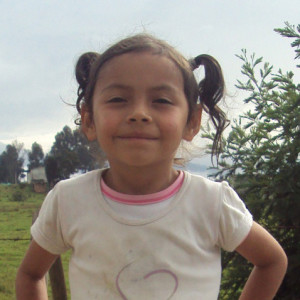 Luisa Fernanda Diaz Gaitan
Age: 6
Date of birth: May 27th, 2007
FAMILY DESCRIPTION
I live with my parents and my siblings.  My father is Jose Martin Diaz Obregon and he is 38 years old.  My mother is Elvira Gaitan Mogollon, and she is 34 years old. I have three siblings: Jhon Eiver, who is 16, MariaCamila, who is 12, and Julian Andres, who is 10. I like to eat fish.  I don't go to church.  I am in first grade and go to school from 7:00 a.m. to 2:00 p.m.
MY HOME AND COMMUNITY
We live in our own house. The floor and walls are made of wood, and the roof is made of metal sheets. It has two bedrooms that sleep six people.  There is only one bathroom. It is located in the "Altos de la Florida" neighborhood in Soacha.  We have electricity, but there is no sewer system and water arrives every two weeks.  The weather is cold and the streets are unpaved.
Code: BOG_003_013