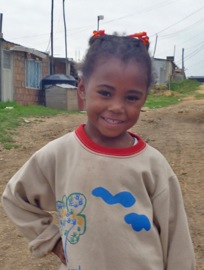 Laura Valentina Salazar Bonilla
Age: 4
Date of birth: March 26, 2009
 FAMILY DESCRIPTION
I live with my parents and my sister.  My father is Jhon Freiman Salazar Alegria and he is 37 years old.  My mother is Alba Lucia Bonilla Caicedo and she is 27.  I have one sister named Johana Marcela, and she is 3 years old. To support my family, my dad works as a peddler. My mother stays at home with us. My favorite food is pasta.  I do not go to church.  I am in preschool from 8:00 a.m to 2:30 p.m. and my favorite subject is Spanish. My health is okay, but my weight is low due to the lack of regular nutrition.
MY HOME AND COMMUNITY
We live in a rented house. The floor is the ground, the walls are made of wood, and the roof is made of metal sheets. It has one room and one bathroom. It is located in the "Altos de la Florida" neighborhood in Soacha.  We have electricity, but there is no sewer system and water arrives every two weeks. The weather is cold and the streets are unpaved.
Code: BOG_003_005