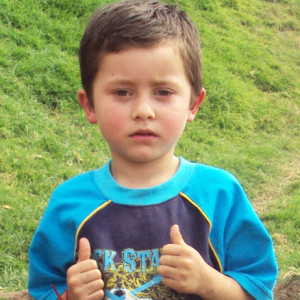 Jesus David Santana
Age: 5
Date of birth:  April 28, 2008
 FAMILY DESCRIPTION
I live with my mother and my sister.  My mother's name is Jenifer Santana Tamara, and she is 26.  My sister is 6 years old and her name is HeidyYasury.  My favorite food is chicken, although regular meals are scarce.  I do not go to church, but I attend school every day from 7:00 a.m until 2:00 p.m.  I am in first grade. My health is fair despite the lack of regular nutrition.
 MY HOME AND COMMUNITY
We live in our own home. It has dirt floors, wooden walls, and metal sheets for the ceiling.  It has three rooms and one bathroom. It is located in the " Altos de la Florida" neighborhood in Soacha.  We have electricity, but there is no sewer system and water arrives every two weeks.  We have to collect the water in containers to be used for cooking, drinking, washing, and bathing.  The weather is cold and the streets are unpaved.
Code: BOG_003_031