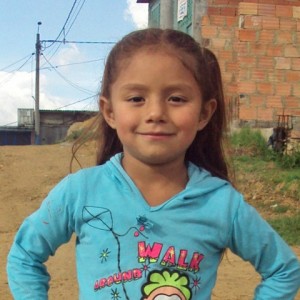 Jeimy Tatiana Jimenez Ramos
Age: 5
Date of birth: May 8th, 2008
FAMILY DESCRIPTION
I live with my parents and my sister.  My father's name is Jose Gonzalo Jimenez.  He is 32 years old.  My mother's name is Andrea Carolina Ramos, and she is 25  years old.  My sister is 3 years old and her name is Angie Lizeth. My favorite food is fried plantains.  I don't go to church.  I am in preschool from 6:00 a.m. until 11:30 a.m.  My favorite subject is Art.  My weight is low for my age due to the lack of regular nutrition.
MY HOME AND COMMUNITY
We live in a rented house. The floor is the ground, the walls are made of  wood, and the roof is made of metal sheets. It has one room and one bathroom. It is located in the "Altos de la Florida" neighborhood in Soacha.  We have electricity, but there is no sewer system and water arrives every two weeks.  The weather is cold and the streets are unpaved.
Code: BOG_003_006