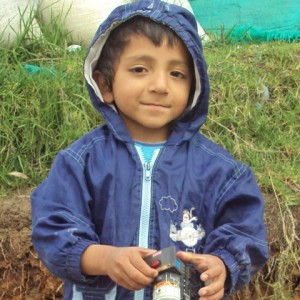 Dilan Felipe Romero Ramirez
Age: 5
Date of birth: August 8th, 2008
FAMILY DESCRIPTION
I live with my mother and my sister. My mother's name is Margoth Romero Ramirez, and she is 42 years old.  I have a sister named Maile Dayana Castrillon Romero, who is 13.   My mother recycles in order to support our home and meet our needs.  I like to eat rice and soup. Currently, I don't go to church.  My school schedule is from 8:00 am to 3:00 pm.  I am in preschool and my favorite subject is Spanish. My health is not great because I suffer from a chronic lung disease.  My family and I never go out and have fun because there is never enough time.
MY HOME AND COMMUNITY
We live in our own house. The floor and walls are made of concrete, and the roof is made of metal sheets. It has two bedrooms which sleep three people.  There is only one bathroom. It is located in the "Altos de la Florida" neighborhood in Soacha.  We have electricity, but there is no sewer system and water arrives every two weeks.  The weather is cold and the streets are unpaved.
Code: BOG_003_011