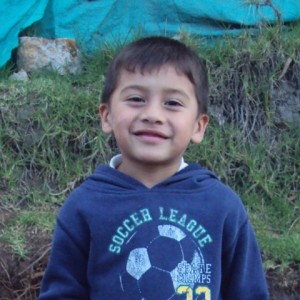 Diego Alexander Salas Quiroga
Age: 6
Date of birth: August 29, 2007
FAMILY DESCRIPTION
I live with my parents and my sister. My father's name is Gilberto Alexander Salas Cruz.  He is 27 years old.  My mother is Maria Fernanda Quiroga Munoz, and she is 22 years old.  My sister's name is Sara Julieth SalasQuiroga and she is 3 years old. I love to eat lentils, although we struggle to get enough food due to our economic situation.  I don't go to church, as of yet. I am in preschool and I attend from 6:30 a.m. to 12:30 p.m. My favorite subject is math. As a family, we have little time to spend together having fun.  My health is good, despite the lack of nutrition.
MY HOME AND COMMUNITY
We live in our own house. The floor and walls are made of concrete, and the roof is made of metal sheets. It has two bedrooms that sleep four people.  There is only one bathroom. It is located in the "Altos de la Florida" neighborhood in Soacha.  We have electricity, but there is no sewer system and water arrives every two weeks. The weather is cold and the streets are unpaved.
Code: BOG_003_012