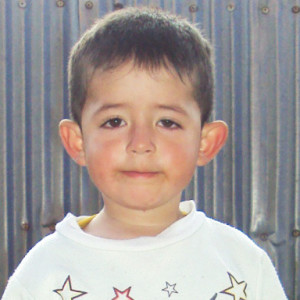 Diego Alexander Beltran Cangrejo
Age: 3
Date of birth: March 16, 2010
FAMILY DESCRIPTION
 I live with my mom. Her name is Elisa Beltran Cangrejo, and she is 34 years old. I like to eat beans, although food is scarce due to our limited resources. I don't go to church and I attend school daily from 8:00am to 4:00pm. I am in preschool.
MY HOME AND COMMUNITY
Our house has two bedrooms and one bathroom.  The walls and floor are made of concrete, and the roof is made of metal sheets. It is located in the "Divino Niño" neighborhood in Soacha. We have electricity, water, and gas. The weather is cold and the streets are unpaved.
Code: BOG_003_061