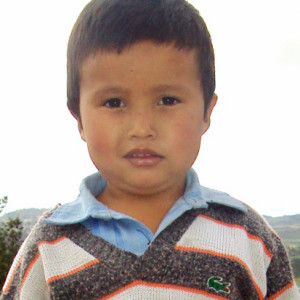 Darwin Felipe Rey Pacanchique
Age: 4
Date of birth:  March 23, 2009
 FAMILY DESCRIPTION
I live with my mother, stepfather, and siblings. My mother's name is Mercedes Pacanchique Sanchez and she is 29 years old.  My stepfather is Javier Alfonso Velasquez Leon and he is 43.  I have three siblings: Linda Esmeralda (5 years old), Daniel Camilo (2 years old), and Dilan Javier (3 months old).  My favorite food is pasta, although regular meals are scarce.  I do not go to church, but I go to school from 8:00 a.m. until 2:30 p.m.  My health is okay, although I sometimes get sick due to the cold weather.
 MY HOME AND COMMUNITY
We live in our own house. It has dirt floors, wood walls, and metal sheets for the ceiling.  It has one room and one bathroom. It is located in the "Altos de la Florida" neighborhood in Soacha.  We have electricity, but there is no sewer system and water arrives every two weeks.  We have to collect the water in containers to be used for cooking, drinking, washing, and bathing.  The weather is cold and the streets are unpaved.
Code: BOG_003_033