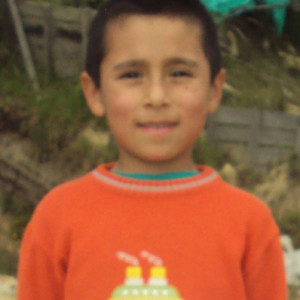 Darwin Esteban Donato Ariza
Age: 6
Date of birth: April 16, 2007
FAMILY DESCRIPTION 
I live with my parents and sister. My father's name is Ever Esteban Donato Castaneda, and he is 30 years old. My mother's name is Diana Marcela Ariza Vallejo, and she is 25 years old. My sister is Gireh Lorena, and she is 3.I like to eat chicken, although nutrition in our home is poor due to our economic situation. I don't go to church, and I don't go to school. I like to share with my family during the weekends.
MY HOME AND COMMUNITY
Our house has two bedrooms and one bathroom.  The walls and floor are made of concrete, and the roof is made of metal sheets. It is located in the "Altos de la Florida" neighborhood in Soacha. We have electricity and gas,  but there is no sewer system. Water arrives twice per week, and we have to collect  it in containers to use it for cooking, bathing, and drinking. The weather is cold and the streets are unpaved.
Code: BOG_003_049