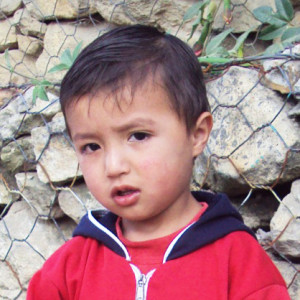 Daniel Felipe Gutierrez
Age: 3
Date of birth:  August 5, 2010
 FAMILY DESCRIPTION
I live with my mother, Clara Jhaneth Herrera Gonzales.  She is 42 years old. I have two brothers, William Ferney (17 years old) and Harold Guillermo (5 years old).  My health is fair despite the lack of regular nutrition. I do not go to church or school.
 MY HOME AND COMMUNITY
We live in a rented house. It has cement floors and metal sheets for the ceiling.  It has two rooms and one bathroom. It is located in the "Divino Nino" neighborhood in Soacha.  The weather is cold and the streets are unpaved.
Code: BOG_003_030A