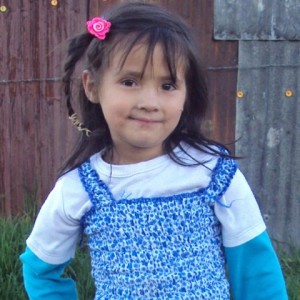 Angie Daniela Zamudio Soacha
Age: 6
Date of birth: May 24th, 2007
FAMILY DESCRIPTION
I live with my stepfather, my mother and my siblings. My stepfather's name is Jose Gregorio Gelves Ortega, and he is 37 years old. My mother's name is Leidy Teresa Zamudio Soacha, and she is 22 years old. I have two siblings, Julieth Alejandra Gelves Zamudio, who is 3, and Jose Elias Gelves Zamudio, who is 2. I like to eat pasta, although food is scarce because of our economic situation. I don't go to church and I attend school daily from 1:00pm to 5:00pm. I am in preschool and my favorite subject is art.
MY HOME AND COMMUNITY
Our house has two bedrooms and one bathroom. It is made of concrete and it is located in the "Altos de la Florida" neighborhood in Soacha. We have electricity and gas,  but there is no sewer system. Water arrives twice per week, and we have to collect  it in containers to use it for cooking, bathing, and drinking. The weather is cold and the streets are unpaved.
Code: BOG_003_002