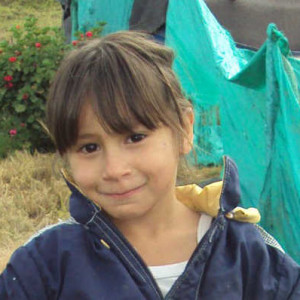 Angela Brigite Sanchez Garcia
Age: 5
Date of birth: April 16, 2008
FAMILY DESCRIPTION 
I live with my mother and siblings. My mother's name is Angela Patricia Garcia, and she is 35 years old. I have four siblings: Jhon Ferney, Angie Viviana, Yudy Marcela, and Wilson Alexander. They are 19, 18, 12, and 8 years old respectively. My mom works as a peddler.I like to eat meat, although food is scarce in our home due to our lack of resources. I don't go to church, and I attend school daily from 7:00am to 3:00pm. I am in kindergarten.
MY HOME AND COMMUNITY
Our house has two bedrooms and one bathroom.  The floor is made of wood, and the roof and walls are made of metal sheets. It is located in the "Altos de la Florida" neighborhood in Soacha. We have electricity and gas,  but there is no sewer system. Water arrives twice per week, and we have to collect  it in containers to use it for cooking, bathing, and drinking. The weather is cold and the streets are unpaved.
Code: BOG_003_074