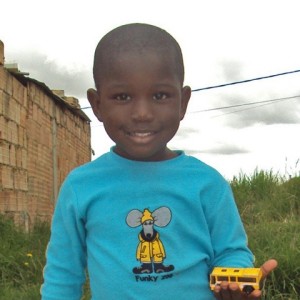 Angel Gabriel Cacierra Cuero
Age: 3
Date of birth: February 28th, 2010
FAMILY DESCRIPTION
I live with my parents. My father's name is Jhon Gabriel Cacierra and he is 23 years old.  My mother is Kelly Cuero Caicedo and she is also 23 years old. My father works in construction and my mother is a housewife.  My favorite food is pasta. I do not attend church.  I go to school from 8:00 am to 2:30 pm. I was born with omphalocele (Omphalocele is a birth defect in which the infant's intestine or other abdominal organs stick out of the belly button) which requires surgery.  When my dad has free time, we like to enjoy family time together.
MY HOME AND COMMUNITY
We live in our own house. The floor and walls are made of concrete, and the roof is made of metal sheets. It has two bedrooms and only one bathroom. It is located in the "Altos de la Florida" neighborhood in Soacha.  We have electricity, but there is no sewer system and water arrives every two weeks. The weather is cold and the streets are unpaved.
Code: BOG_003_019