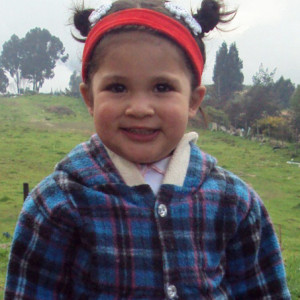 Ana Maria Ramirez Gaviria
Age: 3
Date of birth: August 5th, 2008
FAMILY DESCRIPTION
I live with my grandmother, aunt, mother, cousin and brother.  My mother's name is Andrea Patricia Gaviria Zuniga, and she is 32 years old.  My aunt's name is Sandra Liliana and she is 58. My cousin is 13 and his name is Duvan Mateo. My big brother is Joseth Daniel and he is 12 years old.  I like to eat pasta.  I don't go to church or to school yet.  My health is good, despite the lack of a balanced nutrition.
MY HOME AND COMMUNITY
We live in our own house. The floor is the ground, the walls are made of wood, and the roof is made of metal sheets. It has three bedrooms that sleep six people.  There is only one bathroom. It is located in the "Altos de la Florida" neighborhood in Soacha.  We have electricity, but there is no sewer system and water arrives every two weeks.  The weather is cold and the streets are unpaved.